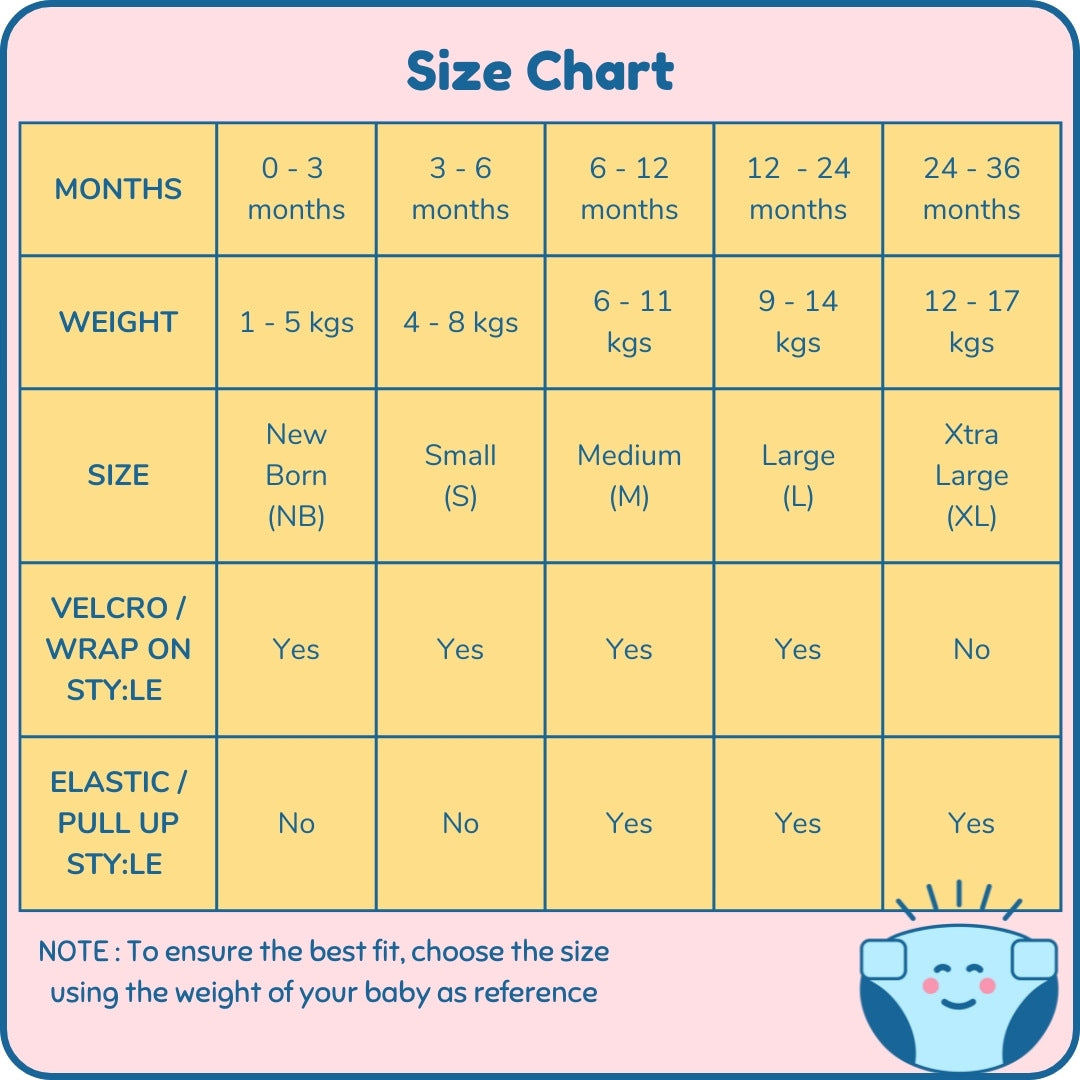 Polka Love - Velcro NewBorn
Sale price
Rs. 999.00
Regular price
Rs. 1,348.00
Estimated Delivery:Sep 25 - Sep 29

Free Shipping: On orders over Rs 1000
Product Details
How To Use
How To Wash
Size Chart
Shipping & Return
No Snaps. No Leaks. No Fuss. Cares For Your Baby Like A Mother.
For Your Little One, The Best Quality And Value Are What You Get With Baby Munkin Cloth Diapers
Designed Specifically For Babies With Super Soft Velcro To Ensure That Your Baby Is Not Scratched.
Being India's Only Poke-Free Cloth Diaper, When Paired With Our High-Absorbent Diaper Pads, It Allows Your Baby's Skin To Stay Dry & Comfy
The Diaper Pad Is Of Multi-Layer Construction With The Softest Top Layers That Are Highly Absorbent, Leakproof & Breathable Bottom Layers.
Designed In Fun And Happy Colors That Your Baby Will Love As Much As You.
Fabric Detail :
Diaper Shell 
100% Polyester 
Breathable & Skin Friendly
Diaper Pad 
Top Layers Are 100% Polyester

Bottom Layers Are 100% Cotton With Leak Proof, Breathable Laminate
Baby Munkin diapers are designed such that the diaper pads are easily removable so that they can be changed without the whole diaper being changed.
Step 1 : Open the diaper
Step 2 : Place the diaper pad inside the flaps & secure it to the velcro
Step 3 : Place the baby over the diaper & pull the front of the diaper to the waist
Step 4 :  Fix the velcro on both sides of the waist to fit
Step 5 : Run your fingers around the elastic at the thighs to ensure the baby is not pinched
The idea of washing dirty diapers can seem daunting but once you get used to it, it won't be so bad. By choosing cloth diapers you are making a big difference by reducing the terrible impact disposable diapers are having on earth. To get started, let's go over the basics.
Step 1 : Dump any solid waste  into the toilet
Dump any poop on the diaper or on the diaper pad into the toilet bowl. Scrape off any solids using a flat instrument you can keep handy for this purpose in the bathroom. You can also use a health faucet to spray the solid poops into the toilet.Just be that the poop is removed.
Step 2 : Store the load till you have batch to wash
Rinse the diaper/ diaper pad, and keep in a bucket of water or a separate pail dedicated to hold soiled diapers till you are ready to wash a batch. 
Step 3 : Washing the batch
Prewash the diaper/ diaper pads in cold water and with regular to warm  water with a cloth diaper safe detergent. You can wash them either by hand or in the machine. Ensure you press the diaper/ diaper pads flat to remove excess water. Do not wring. Wringing the diaper pads will cause damage to the leak proof layer.
Step 4 : Drying the batch
The best way to dry diapers and diaper pads is in the sun. Drying in the sun kills bacteria and It also helps extend the life of the diapers and the pads. It also keeps them fresh, light and airy and prevents fungal growth when dried fully. If you are not able to dry them in the sun, you can use the dryer on a low setting.
Finding the right size of diaper for your baby is quite simple. It is based on your baby's weight. Follow the simple table given below as a guide
| | | | | | |
| --- | --- | --- | --- | --- | --- |
| Months | 0 - 3 months | 3 - 6 months | 6 - 12 months | 12 - 24 months | 24 - 36 months |
| Weight (Kgs) | 1 - 5 kgs | 4 - 8 kgs |  6 - 11 kgs | 9 - 14 kgs | 12 - 17 kgs |
| Size | New Born (NB) | Small (S) | Medium (M) | Large (L) | Xtra Large (XL) |
HOW LONG MUST I WAIT AFTER I HAVE PLACED MY ORDER?
Your package should arrive at your doorstep within 3-5 days. It might get delayed for 1-2 days more if your location is at ODA (Out Of Delivery Area).
How do I know if my order is shipped?
As soon as your package ships, we will Email & Whatsapp to your registered email id / mobile number with the tracking information.
I don't live in India. Can I still order on BabyMunkin?
Yes! We offer international shipping, so women all around the world can enjoy our offering from BabyMunkin!
How much does international shipping cost?
Shipping charges for orders outside India are as per actuals from our logistics partners.
I live abroad. How long before I get my order?
We partner only with reputed courier companies and your order could take anywhere from 5-7 days for delivery.
Does BabyMunkin cover taxes and duty for international customers?
Unfortunately not! Our prices don't include these fees (they vary depending on where you are), so import taxes, duties and any other applicable taxes are collected by the local shipping company upon delivery.
Softest On Your Baby's Skin

Baby Munkin has been under development for over 6 months to ensure that a baby's comfort and safety is never at stake. We take utmost care in ensuring that all the fabrics & trims we use are of best quality
Other brands have been designing cloth diapers with the idea that the same diaper should be useable from 3 months of baby's age upto 3 years.
While this reduces complexity for brands, babies get poked. What is worse is that a loose snap button is a choke hazard risk for the baby.
At Baby Munkin's, we have sized the diaper as per baby's age/weight, so hard snap buttons could be done away with.
Product is gentle and suitable for a baby's delicate skin.